As we're almost halfway into 2022, we've seen some fabulous modern lighting designs emerge until now. Every year comes with a fresh set of trends that help you illuminate your space with a touch of style, and 2022 has some really good designs to offer. We're here to keep you updated with the latest lighting design trends. Let's take you through some of the top lighting trends in 2022 in this article.
Top Modern Lighting Design
Pendant Lamps Are A Hit!
You heard that right. Pendant lamps are being widely preferred by designers in 2022 and for all the right reasons. Be it a luxurious pendant lamp hanging in your drawing room, or a simple lamp with a minimalist design like the Gaya pendant lamp by Woodshells, these lamps add a touch of style to your space.
Depending on the style of the pendant lamp, the aura of a space can be transformed completely. The Radiance pendant lamp by Woodshells for instance can make your space bright and radiant, as the name suggests.
These lamps would definitely help you keep up with modern lighting designs.
Wall Lamps Are Back
The often ignored illuminators – wall lamps – are back and trending in 2022. These silent beauties add an elegant touch to your space, similar to the lamps lit on the walls of palaces. If you choose the right wall lamp, you'll be able to ace this lighting design trend like a pro.
The Vial wall lamp from the Woodshells collection would be a perfect fit for giving your space a royal look. The Dandelion wall lamp by Woodshells is another classic piece that will help you get a taste of royalty in your own space.
Natural Lamps Are Trending
Lamps made up of natural materials like bamboo are being increasingly included in spaces. For those who wish to stay close to nature and have plants in their homes as well as gardens, getting natural lamps placed in their spaces would be a great idea.
Placing the Den table lamp by Woodshells in your bedroom would give it a natural touch and turn out to be a great bedroom interior design idea. To up your game of modern lighting design, you can also go for the Raemi table lamp by Woodshells.
Table Lamps Never Go Out Of Trend!
It would be difficult to imagine any space without table lamps. These lamps have the power to transform the aura of your space completely. Woodshells offers a decent range of table lamps starting from Auro multipurpose lamps to Den table lamps. The Raemi table lamp is another classic piece in the collection.
If you wish to add some colour to your space, the Kia table lamp by Woodshells would do the magic for you.
Floor Lamps For A Unique Touch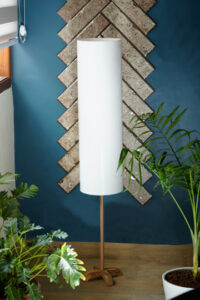 As people look for lighting design trends that make them stand out, floor lamps have emerged on the list of lighting trends in 2022. Adding a floor lamp to your living room would turn out to be a great living room lighting idea. It will not only emit the perfect light but will also make the space look interesting.
The Glen and Bodhi wooden standing floor lamps by Woodshells would be a perfect fit for your space.
Task Lights For Ease
When we talk about modern lighting design trends, we cannot miss out on task lights. These lights help you carry out tasks with ease by illuminating the perfect areas of work. Adding task lights is a great home office lighting idea.
Ambient Lights For Illumination
Gone are the days when tube lights and bulbs used to be the primary source of illumination in homes. In lighting trends 2022, ambient lights are being installed on the ceilings to give a clean and classic touch to your space. Moreover, these lights are offering enough illumination to keep your space bright even on the darkest days!
Like every year, 2022 has come with its own set of lighting trends and I'm sure you would not want to miss out on any of them.
Woodshells is a modern, minimal and meaningful interior decor brand that provides sustainable lighting solutions. Our collection of Pendant, walls, Table and Floor lamps has the power to transform any space. We will keep you updated with the latest styling ideas here. Stay tuned.
Related posts