After a long working day or fun but tiring party night, all you can think of is crashing in your bedroom. The bedroom awaits you with open arms and gives you the much-awaited rest and relaxation that you've been looking for. But, are you satisfied with the interior of your space? If you wish to enhance your experience in this particular section of your home, then we're here to share some great bedroom interior design ideas with you.
From the right lighting to the right furniture, we'll discuss ideas related to every aspect of your bedroom.
Cool Bedroom Interior Design Ideas
Pick The Right Paint For The Walls
One of the key aspects of designing any space is the colour that you choose for the walls. From transforming the aura of the room to ensuring the best use of lights, the colour of the wall paint does it all. Since the bedroom is a space where you relax and unwind, you should use soothing colours like white, peach, baby pink, or any of the pastel colours. You can choose to go for wallpapers of such colours as well.
Illuminate Your Space With The Right Lights
Lighting plays one of the most important roles in making your bedroom interior design attractive. By mixing and matching the right kind of lights, you can not just illuminate your space with perfection, but also make it look stylish.
There are several types of lights that you can include in your bedroom. Here are some to select from:
Pendant Lights
Pendant lights are an amazing source of illumination which also add a stylish look to your space. These are great ceiling lights for the bedroom. Woodshells offers a great range of pendant lights that have the power to instantly transform your space. Their minimalist design and natural touch give out a refreshing vibe in your space. It is also a great living room with a modern lighting design.
The Gaya pendant lamp by Woodshells is one of the classic pieces which can be used in pairs of two or three to brighten up your space. If you are looking for a more fancy look, then the Radiance pendant lamp from the Woodshells collection will do the magic for you. For a vintage vibe, you can go for the Canopy pendant lamp by Woodshells.
Table Lamps
Your bedroom interior design would be incomplete without a table lamp. Table lamps not only add a touch of style to your space but also serve as a reading buddy for you. Wood shells is here to help you choose from a classy range of lamps, using which is a great sustainable lighting ideas. You can easily buy designer table lamps online from the Woodshells collection.
The Raemi table lamp from the Woodshells collection is a great choice for almost any space. The warm light it emits makes it perfectly suitable for the bedroom. If you're looking for a more designer look, then the Den table lamp by Woodshells is the perfect choice for you. To add a dash of colour to your space, go for the Kia table lamp by Woodshells which comes in some vibrant colours.
Wall lamps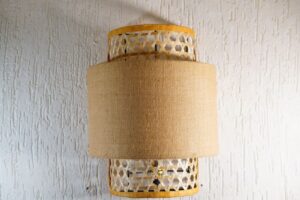 If you want to add more detail to your space then wall lamps are what you need. Although these are often ignored, adding wall lamps to your space gives it that extra something that you didn't know was missing! Wall lamps have made their way to the list of lighting trends for 2022.
Want a royal palace-like look? Go for the Dandelion wall lamp by Woodshelss. It is made up of woven cane and adds a nice natural touch to your space. It can be used as a good source of human-centric lighting. Placing two dandelion wall lamps in your space would be a great bedroom interior design idea. Another beautiful piece from the Woodshells collection is the Vial wall lamp. It has a minimal but eye-catchy design which will make your space look even more elegant and stylish.
Choose The Right Furniture
Another important aspect of bedroom interior design is choosing the right furniture. I would suggest placing only the necessary furniture in your space to avoid clutter. Some key pieces of furniture that need to be in your bedroom are a bed (of course!), a table or two on each side of the bed (where you can place your table lamps), an almirah for storing clothes, and maybe a cabinet just below your television set. Make sure to not add unnecessary furniture to your bedroom to make it look more spacious.
Woodshells is a modern and meaningful interior decor brand that provides sustainable lighting solutions. Our collection of elegant Pendant, Wall, tables, and Floor lamps has the power to transform any space. We will keep you updated with the latest styling ideas here. Stay tuned.
Related posts