After having successfully established its presence online with a PAN India reach, Woodshells is well on its way to establish its physical presence in Tricity – Chandigarh, Panchkula and Mohali.
About Woodshells
Woodshells – A modern, minimal and meaningful interior decor brand brings lighting solutions in the form of sustainable lamps that will cozy up your home spaces. It has a physical store presence at SCO 384, First Floor, Sector 20, Panchkula, and its products are also available at www.woodshells.co.in. 
In the month of March 2022, Woodshells exhibited its products like Wall lamps, Floor lamps, Table lamps, and Pendant lamps at the much-talked-about event of Chandigarh: LaFeria.
About LaFeria
LaFeria is an annual event that brings together food, shopping, and music for the people of Tricity. The 9th Spring edition of LaFeria was held this year too which invited the people of the Tricity to shop, eat and chill with friends. It is a platform that brings together the quirkiest of brands in a fair that is complete with music, food, shopping, and concerts.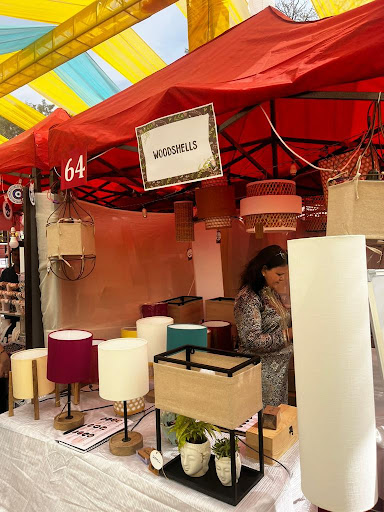 With over 80 plus pop ups curated from all over India, LaFeria also holds cooking, pottery, and photography workshops at the event. 
Woodshells was invited to exhibit at this quirky event. The designs were an instant success at the fair and people of all age groups went back home with purchases from our exclusive collection.
Radiance, a gorgeous pendant lamp for living room, and Kia bedside table lamp seemed to be the show-stealers but we saw record sales for products like Auro, Raemi, Bodhi, Glen, Den, Vial, Dandelion, Canopy, and Gaya.
"We are going back home with so much love for the lamps. The appreciation we received and the sales that we made, make us want to work harder for the people of Tricity. See you next year LaFeria!" said Kavya Gupta, Founder and Head Designer at Woodshells. 
To buy best lamps online in the category of Table lamps, Pendant Lamps, Floor Lamps, and Wall lamps visit our shop page now. We bring to you handmade and designer wooden lamps at a low price in India.
We specialize in handcrafted table, floor, wall, and pendant lamps for your living room and bedrooms. Our latest and selectable variety of decorative and modern wooden lamps is available at the best prices for your living room, bedroom, kitchen, wall, ceiling, and floor.
Related posts